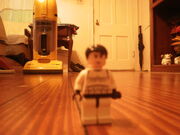 Spike Witwicky is a Sergeant of E.D.C. and a good friend of Hound. He was born on August 18, 1994. The 18 year-old has great intellect (enough to built Nightbird) and is highly skilled in combat.
COMING SOON
Voice Actors
Edit
Diamondmutt1111 voices him.
Spike resembles Diamondmutt1111, in a way...
Spike (like his G1 carnation) is friends with a 'Bot named Hound.