Hound is sometimes potrayed as second-in-command (Spike Witwicky and Jazz are other canidates. Blurr is...a bit hard to understand). Hound is also a good friend of Spike Witwicky. He transforms into a morden version of a Mitsubishi J59 Jeep.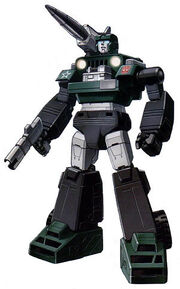 Voice Actors
Edit
Hound is played by one of Diamondmutt1111's best friends, Nintendo480. Nintendo480 ALSO voices Jazz and Cyclonus.
Wanna know how Hound got his name....me either.
He's a tracker,duh.
His friendship with Spike dates back to 1984. Just kidding, Spike wasn't born until 1994.
His robotic best friends include: Sunstreaker, Grimlock, and a few others.